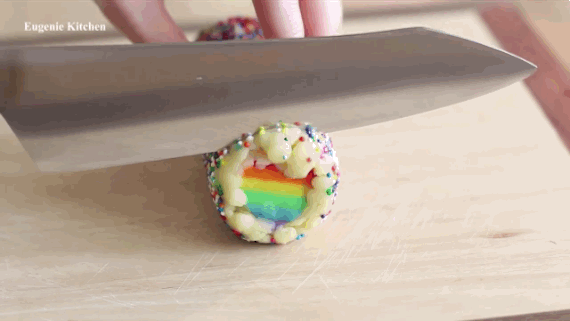 Today I tried to make cookies. Just in case you were wondering, baker I am not. But lately I've been trying to find new ways to entertain myself as I sit at home and ponder my existence. So after watching a super cute video of these adorable heart cookies being crafted, I decided to try my hand at making something colorful and happy and seemingly medium in difficulty.

So, after watching the short video like, 1,000 times, I went to the store and got everything I needed.
-confectioner's sugar (also known as powdered sugar)
-vanilla extract
-eggs
-cake flour (unfortunately, I couldn't find cake flour anywhere, so I used all-purpose flour)
-food coloring
-sprinkles
Then I got to work. It wasn't until I was sitting down to write this blog post that I discovered that there was actually a
website with complete instructions
. I literally just got all my instructions from the video, so there were a couple of key points, like whip butter into mayonnaise-like consistency that I skipped. There were also helpful hints like "all-purpose flour and cornstarch mixed together make cake flour" that were included that I could have used had I known about the site. AUGH, tumblr, you failed me.
Also, Wal-Mart failed me, because my Wal-Mart only had flower cookie cutters, not the cute little hearts shown, which made my life way more difficult.
So after layering the different colored doughs with a egg-white and water paste and letting it set for an hour I was ready to cut the flower shapes out of dough and stack them up and glue them together, again using egg-white and water. Because my cookie cutter was longer than the one in the video, I should have adjusted the number of layers accordingly, but I did not, and ended up having to stack two of the color stacks together to make it work, but it didn't affect the size of the cookie dough log in the end, so it was all worked out. But then came the hardest part.
To make the log circular and able to be rolled in sprinkles, each of the spaces between the petals had to be filled in with dough and then wrapped in dough again to create a log. One of the tips I wish I had known before was that vanilla butter dough is insanely sticky when warm and if it gets TOO sticky, it should be refrigerated for an hour. BUT I PREVAILED, and got the whole thing surrounded in vanilla dough and covered in sprinkles, which is a lot harder than I initially thought it would be.
But, after washing my hands a zillion times and literally just dumping sprinkles on the thing a couple of times to fill in holes, I was ready to cut the dough into cookies and bake. There is nothing exciting about that part of the story, except that the bottom started to look flat from the pressure so I had to roll the cookie log a couple of times to restore the circular shape. So half my cookies look like the letter "D".
At the end I had a lot of scrap dough from the colored layers that I didn't want to waste, so rolled it into a large sheet, cut out some more flowers from it, and made cookies from the scraps as well, just an easier, more tie-dye variety. Oh, and the cookies are SO GOOD. I've never used that recipe before, because as I said, baking is a no-go for me. Normally I get the hankering to make cookies, buy a tub of cookie dough, and eat it out of the container in a fit of laziness mixed with impatience.
If you're gonna make these cookies, and I totally suggest you do because they are so cute and so good, make sure you let everything set in the fridge for an hour between steps. That's 4 hours of prep work, but like, the easiest prep work ever. I've watched almost an entire season of The Mindy Project while making these cookies. So, not a horrible process. I would also say to be prepared to use a lot of food coloring. They suggest using gel food coloring, which is what I did, and it works really well, the color is very vibrant, but it also gets all over your hands, and incidentally, my face. Yeah, I wiped my face with my food coloring hand and it was awesome.
It is safe to say that I am still not the worlds best baker. But maybe with some practice I'll get to be at least okay.
Photo by Shakanna Inman
Alexis Olmstead is a 20something living in Middle-of-Nowhere, Washington, trying to make herself better one teeny tiny step at a time. She doesn't have anything figured out in regards to "the big picture" but hey, her eyebrows look good, so that's a start. For more rants, raves, life experiences, and opinions, check back semi-regularly.